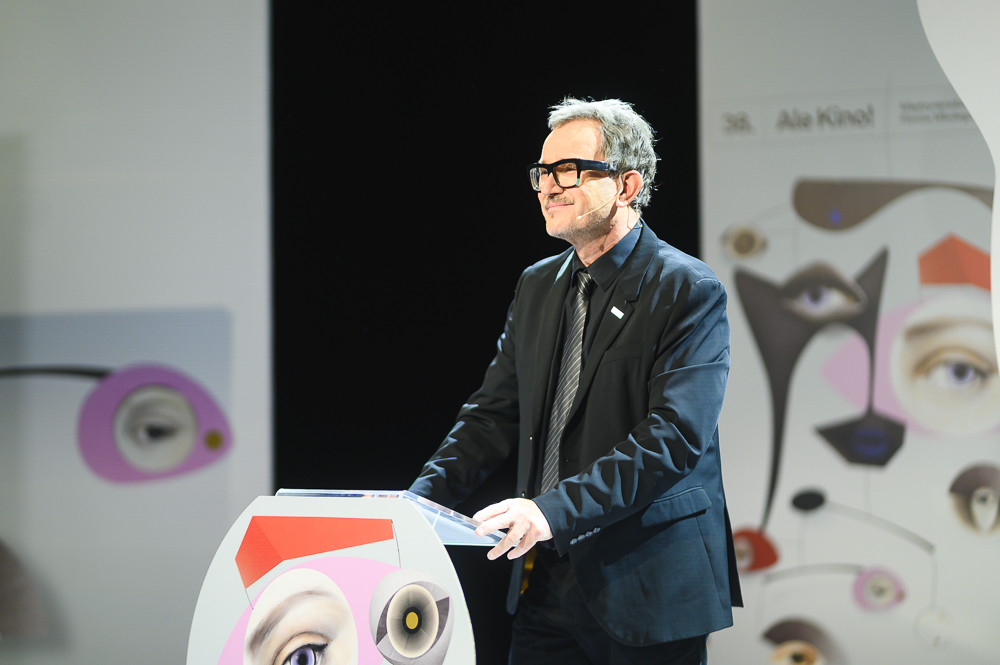 I've been with the Ale Kino! Festival for many years. During that time, I've experienced so many adventures and extraordinary events that it's hard to count them. I don't think it would even be possible to fit them all on one huge hard drive. Or maybe I'm exaggerating a bit, because it's probably possible for the whole world and parts of some neighbouring galaxy to be saved on the biggest hard drive. But would a drive, in all its capabilities, be able to predict that the 2020 Festival will take place online? It may be, since such technology and the Internet are very much connected, but people definitely didn't expect that. That's why the decision to organize the Festival online resulted in huge efforts made by the team of its creators, who faced a great challenge to master new technologies and different forms of organizing events, which we hadn't used before, and which would've made it possible to hold a film festival without involving actual cinemas.
Whether it was successful or not, you – the viewers and guests of this most unique edition of Ale Kino! so far – will have to judge for yourselves. In my opinion, it turned out quite good. We were able to transfer the whole repertoire planned for the cinemas to the Internet. In it, we mainly included the best films made in the last two years – among them, those already known and critically acclaimed, but also our new discoveries and fascinations. Anyone interested could access them on the Festival website: families with children and movie fans, as well as industry and media representatives. And, as the numbers show, they willingly used this opportunity. The creators of the presented films were kind and understanding, willingly recording their comments and giving interviews. The jurors were meticulous and reliable in their online work, and the filmmakers recognised by them were filled with joy. So, everything went well. And although, at some point, all of us probably missed being in real cinemas and, in the words of Frances Osterfelt, who's been attending the Festival since 2001, "the smell of fresh popcorn in Multikino and wading in the sea of happy children," numerous comments made by the audience on social media prove that even when staying at home we managed to bring a lot of happiness with our films. I also have a feeling that, thanks to the Internet, we've extended our social reach much further than ever before. Our films were watched across Poland, while most of our online viewers might not have had a chance to show up with their children, had the Festival taken place in Poznań. This is why I'd like to make an important promise now: since we were widely visited by online viewers, we won't forget about them next year and will try use the online format again, even if the epidemic is in the dustbin of history by then. Still, we hope that maybe now they'll feel more encouraged and try to stop by our city for at least one festival weekend. Many attractions and excitements in the cinemas – because it's there where we'd like to come back to with the Festival – guaranteed!
There wouldn't be all those cinematic treasures sunken in sea of the Internet if it weren't for the help of many institutions and people. The City of Poznań, our main patron, didn't hesitate to support our decision to go online, also our main partner, PKO Bank Polski, was kind as always. We could also rely on our patrons, the Ministry of Culture and National Heritage and the Polish Film Institute. We were extremely happy to be awarded a grant from the European Union sub-programme called Creative Europe MEDIA – not only because it means money, but also because of its symbolic meaning. Last but not least, I have to mention Multikino: although we couldn't be with them this year, they remained so open to all our ideas while trying to still host our young viewers safely in their cinemas before the final decision to move the Festival to an online format. Thanks are also due to all those who led us on our debut journey through the winding roads of the Internet, including Made, Studio Kropka and the Bilety24.pl website.
We also enjoyed our cooperation with the ZAMEK Culture Centre and the Kino Pałacowe Cinema, the Magazyn Art and Education Association, the People for People Social Foundation, the Ferment Kolektiv team, the Polish Filmmakers Association and the Mili Ludzie Foundation. We're proud to belong to the European Children's Film Association, a community of people and institutions whose mission is to popularize children's cinema. It was under its auspices that we held an important Ale Kino! Industry / Education Pro online screening session entitled "Yes, We Made it – the Autumn of European Festivals for Children and Youth in Pandemic".
From the perspective of the Festival's director with years of experience that I've already mentioned before, I'd like to tip my hat to the organizing team of this year's Ale Kino!. They're always great, but this year they were absolutely exceptional. For those four months of preparations to move the Festival from cinemas to the Internet, everyone did an extraordinary and effective job while moving through uncharted territories, at times being completely in the dark. This darkness was sometimes so deep that we were scared to get lost, failing to reach our final destination. But right before the Festival started, their stubbornness and diligence brought much expected results: the darkness was finally lifted, and we were able to sail with our guests and viewers through a wonderful sea of films, finding more and more remarkable pieces for children, teenagers and virtually anyone interested. And since being your guide is essential for us, on behalf of the organizers of Ale Kino!, I'd like to invite you to the next edition of the Festival next year. We start preparations tomorrow.
Jerzy Moszkowicz